I was asked to design something to put on the front of a bass drum by Patrick Benson.  (Drummer Extraordinaire.)
My only requirement was that it be a stylized image of a tree.
I started sketching and came up with round trees, pointy trees, fluffy trees, boring trees, etc…
Here is one that didn't make the cut: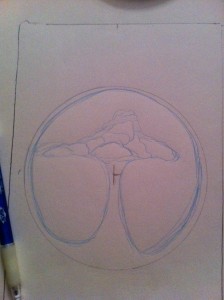 Then I happened on a picture of Gustav Klimts Tree of Life painting.. WOW.
So the curls got the better of me and I started sketching along that line.
Finally coming up with this one:
After getting the OK from Patrick, I had to decide what to do w/ this sketch.
WOODCARVING!!!
The final files are sent and I'm waiting to see the finished drum head!!!
Thanks again for the opportunity Patrick!!!  This was a super fun project.